To track steps/activity on the mobile app, please click here for Android and iPhone.
You can edit steps or enter other physical activity through the web browser (website) for the current day or any previous days.
Once you're logged in to Omada through a web browser, click on the Tracking tab located on the navigation bar on the left-hand side of the screen. The Activity tracker is located on the Tracking page.

1. Locate the Trackers box, visible on the right side of the screen, and click on the Activity tab.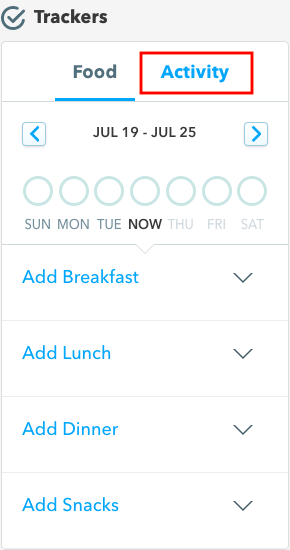 2. Click the day for which you'd like to enter your physical activity. If you'd like to enter activity for a previous week, click the blue "<" symbol located to the left of the date. Here's a more detailed guide on how to edit steps/activity for previous day: How do I track previous activities and steps on the website?
3. To edit steps, double click into the text box and enter the total number of steps. Once you press Enter on your keyboard, the steps will automatically save. You'll see 'Saved!' at the bottom of the activity box.

4. You can also enter hours and/or minutes of any activity that you completed that day under "Other Physical Activity". If you want to enter the type of activity completed, you can do us under the Notes section. The entry will automatically be saved!