There are a number of reasons why you might be getting unexpected results with your at-home blood pressure (BP) monitor. In this article, we'll help you determine the most likely cause.
Expect each reading to be a little different.
When you measure your BP at home, it's recommended that you take 2-3 readings, at least a minute apart. This is to account for normal variations between readings. Your BP fluctuates depending on the time of day and in response to many factors, such as body position, eating, and how recently you've been physically active.
That means that, each time you check your BP, you can expect to see a slightly different result. The goal of monitoring your BP at home is to track your readings over time, which reveals if your BP is generally trending higher or lower.
Expect variations between monitors.
Not all BP monitors are calibrated exactly alike, which can lead to differences in readings. Some monitors may also be unreliable. The Omada BP monitor is FDA-cleared and has been shown to be accurate within +/- 10mmHG in clinical testing. This degree of accuracy is expected among blood pressure monitors and is compatible with the AAMI's (Association for the Advancement of Medical Instrumentation) requirements.
If you're using a different monitor, it may not meet the same standards. Consult the manual that came with your monitor to find out if/how it has been tested.
Check the fit of your cuff.
Using a BP cuff that's too small or too big will significantly skew your readings. To find out if the cuff that came with your Omada BP monitor is the right size, you'll need to measure your arm. Wrap a flexible tape measure around your bicep at mid-arm (see photo below) to get your arm circumference in centimeters (cm).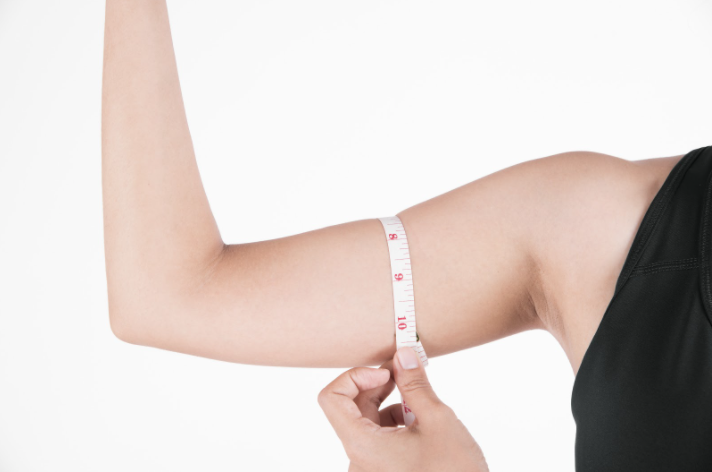 The Omada cuff will fit if your arm circumference is between 22-45 cm. If your arm circumference is close to the limits of this range (22-25cm or 38-45cm), or outside of this range, contact Support here. We can send you an alternative cuff that may work better for you.
Using a cuff that didn't come from Omada? Get more information on proper fit in this resource.
Start preparing 30 minutes before your reading.
There's no rushing an accurate BP measurement. Each step in the process impacts your result. Sitting quietly without distractions or conversation for 5 minutes before taking your BP can be the hardest part!
Pick a time to check your BP when you can do each of the things listed below. For example, if you place the BP cuff over your clothes instead of on bare skin, it can skew your reading by as much as 40 mmHg! To find out how skipping other steps can alter your reading, see the chart in this resource.
Step 1: Plan Ahead
Avoid caffeine, smoking, exercise, and meals for at least 30 minutes before measuring your blood pressure.

Wait until after you measure to take any blood pressure medication.

Empty your bladder before you measure.
Step 2: Get in Position
Sit with your back straight and supported. (A dining chair is a better option than a sofa.)
Keep your feet flat on the floor, and uncross your legs.
Wrap the cuff around your bare arm with the tube extending down toward your hand.
Secure the cuff just above your elbow with the artery mark (Ф) centered on the front of your arm. (The cuff should be snug but not too tight — make sure you can slide one finger under it.)
Rest your arm, palm up, on a flat surface so that the cuff is at heart level.
Step 3: Take Time to Relax
Sit quietly for at least 5 minutes.

Avoid conversation or distractions, including looking at your phone.
Step 4: Measure Your BP
Take 2-3 readings, at least a minute apart.

Do not change your position or remove the BP cuff between readings.
Expect your BP to be different at the doctor's office.
In general, the BP measurements you take at home tend to be lower than the readings you have taken at a doctor's office or clinic. This phenomenon is so well documented that two different sets of numbers are used to categorize BP ranges — one that refers to in-clinic readings and one that refers to at-home readings.See this resource for more information.
If you haven't already, we recommend that you take your at-home BP monitor to a visit with your primary care provider (PCP). They can observe you taking a measurement, provide feedback on your technique, and confirm that your Omada monitor's readings match those taken with their monitor.
If your unexpected BP readings don't seem related to any of the above factors, reach out to your coach. They can help you pinpoint the problem.